Pork Chops With Sour Cream Sauce
Nimz1466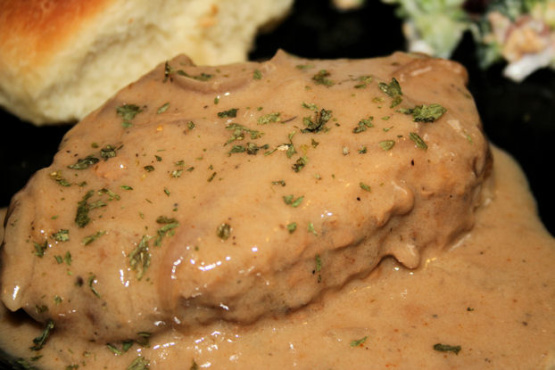 This recipe is actually from my partner, Dean Ramsey. This is a DELICIOUS way of serving pork chops, and the sauce should act as a gravy over white rice, wide egg noodles or mashed potatoes. If you have any questions, you can e-mail me: AlanLeonetti@q.com

Sauce was excellent, I only used one onion, instead of two. Very good flavor. One point - watch the thickness of your chops and the temp, mine were a little thicker and I guess my stove doesn't simmer slowly, my chops were done at 12 minutes. Doesn't affect my rating though, it's a very tasty recipe. Thanks Alan.
Combine sage, salt and pepper and rub the chops on both sides with the mixture. Brown chops on both sides, lightly, in hot fat. Drain off excess fat. Add the onions and consomme. Cover and simmer 30 minutes, or until the meat is almost done.
Combine sour cream and flour and pour it over the chops. Simmer, uncovered, 8 to 10 minutes. Sprinkle with parsley and serve. Use the extra sauce over white rice, wide egg noodles, or mashed potatoes.