Pork Chops With Scalloped Potatoes and Onions
Pixie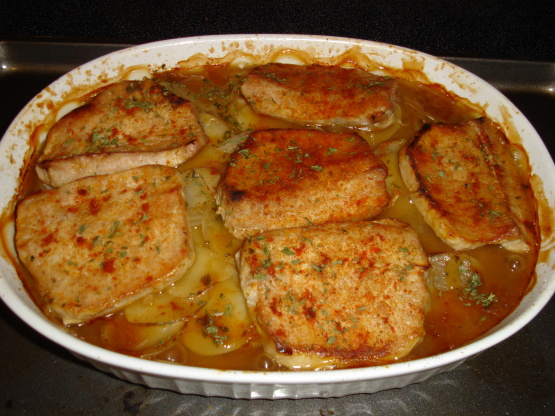 I found this recipe in a Taste of Home over 13 years ago. It is a tried and true recipe that is especially satisfying on cold evenings.

I made this last night, the house still smells great! Very good comfort food. Leftovers today were even better.
In a saucepan melt butter over low heat, stir in flour, salt and pepper.
Add chicken broth; cook and stir constantly until the mixture comes to a boil.
Cook for one minute then remove from heat and set aside.
Season pork chops with additional salt and pepper as desired.
Brown pork chops in a skillet coated with vegetable oil.
Grease a 9 X 13 baking pan.
Layer potato and onion slices in pan.
pour broth mixture over the potatoes and onion.
Place browned pork chops on top of potatoes.
Sprinkle paprika and parsley.
Cover with aluminium foil and bake at 350 for 1 hour or until potatoes are tender.
Remove foil and bake an additional 30 minutes, or until potatoes are tender.