Pork Chops With Sauteed Apples and Sauerkraut
Bergy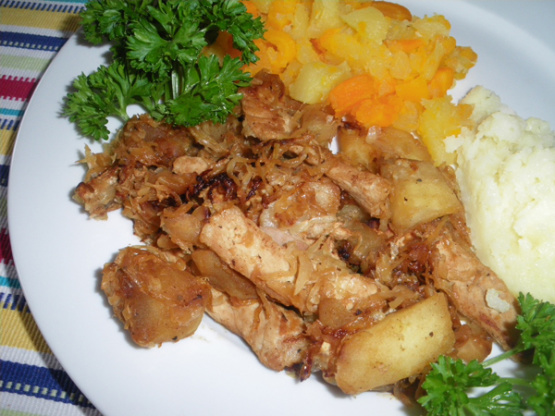 5 Weight Watchers points per serving. This recipe is core. You could use slices of porkloin instead of pork chops just adjust the cooking time.

Top Review by GaylaV
I really enjoyed this recipe but my husband, not so much. The pork chops were so juicy and tender. I used olive oil and only a pinch of caraway seeds as they are not my favorite. A little bit goes a long way and I think next time I will leave them out. The interesting thing to me is that the dish is so rich tasting for so few points. It will surely find its way back to my table. Thanks for posting this great recipe.
Sprinkle pork chops with 1/4 tsp salt and 1/8 tsp pepper.
Heat 1 teaspoon of oil in a large nonstick skillet over medium high heat.
Add pork and cook until browned and cooked through, 3-4 minutes on each side.
Transfer to a plate and keep warm.
Heat remaining oil in skillet.
Add apples and cinnamon.
Cook, stirring occasionally, until apples begin to brown, 3-4 minutes. Add sauerkraut, caraway seeds and remaining salt and pepper. Cook 2-3 minutes.
Serve with pork.