Pork Chops With Sauerkraut and Apple
teresas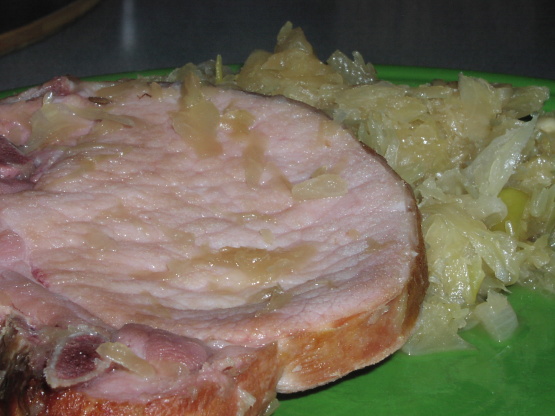 This is a great recipe for people who think they don't like sauerkraut, as it's very mild and sweet prepared this way. I never would have thought of using wine in a sauerkraut dish, but it's great. Source lost in the mists of time.

Top Review by Zurie
A lovely recipe. It's so easy to make, and can be recommended for people who like sauerkraut (like us)! It won't set the world on fire, but we really liked it! With it, we had beans in tomato sauce, fresh peas, and plain boiled potatoes. I think next time I might add cumin seeds to the recipe. I added no more than 1/2 t sugar as well. I do apologise for the photograph, because as this is a dish without much natural colour it is hard to do justice to it in a photograph!! Thanks, Duonyte, this was just what I needed for my pork loin chops tonight!
Salt and pepper the chops and brown them in hot oil or butter, about 3 minutes per side. Set aside.
Add the apple and onions to the same skillet and cook for about 5 minutes, until the onion starts to look golden.
Add the wine and stir, scraping up all the browned bits, and cook for an additional 3 minutes.
Stir in the sauerkraut, and place the chops on top, including any juices that have collected. Cover the skillet, lower the heat and cook until the chops are done, about 7 minutes, depending on thickness. Do not overcook.
Note1: I've also made this successfully with chardonnay, but riesling is the best.
Note2: Sauerkraut packed in plastic bags and sold in the refrigerator case tastes much better than the canned.