Pork Chops With Raspberry Glaze
Prep 10 mins
Cook 20 mins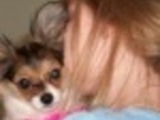 My son's fiancée invited us to dinner and served this. She said she wanted to impress the soon to be in-laws. She did impress us, it was delicious. She hesitated to give me the recipe because she didn't want me to know how quick and easy it really was. I told her that it was even more impressive that she could make such a yummy meal in less than 30 minutes.
Directions
Melt butter in large skillet over medium high heat. Add pork chops and cook 5 to 7 minutes on each side, or until browned.
Mix jam, vinegar, mustard and orange zest in small bowl. Spoon evenly over pork chops.
Lower heat and simmer uncovered until sauce is reduced to glaze consistency and chops are cooked through, approx 5-7 minutes. Turn chops occasionally.
Spoon small amount of sauce onto center of each plate. Slice chops in thin slices. Place chops on top of sauce on plate in a fan shape. Drizzle with remaining sauce.
Reviews
Most Helpful
Really good and easy. I used blackberry jam cuz that's what i had on hand.

Very good! My DH does not like raspberries so I did sub. a cherry preserve. Also, I used raspberry walnut vinegrette. Even the kids liked it.
We really enjoyed these pork chops. Very flavorful, quick and easy meal. Make sure not to overcook the chops. Thanks for sharing!