moxie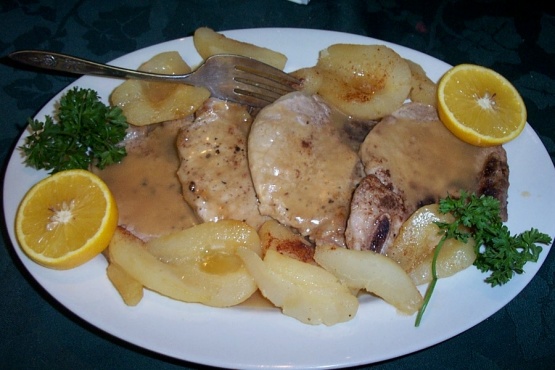 One of our favorite ways to enjoy pork chops. This produces a really delicious end result -- we hope you enjoy it!
This was very good and used stuff I stock in my pantry. A simple way to serve an elegant dish! I used some strawberry/banana orange juice since that's what I had on hand, but the tastes still matched well. This is one for my recipe box! :)
In a large frying pan, brown the pork chops in hot oil; drain.
Transfer the pork chops to a shallow baking pan and season with salt and pepper.
Arrange the pear halves around the chops.
Drizzle orange juice over all.
Sprinkle with brown sugar and cinnamon.
Pour sherry over all.
Place butter in the hollow of pears.
Cover and bake at 350°F for 20 minutes.
Uncover and continue baking for 20 minutes, until meat is tender.
Place the pears and pork chops on a platter.
Dissolve cornstarch in water, stir into sauce mixture and cook until thickened.
Pour over pork chops and pears.
Enjoy!