Pork Chops With Onion Sauce
CoCaShe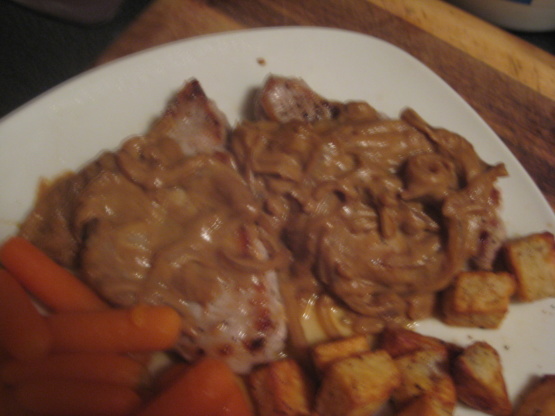 Very tasty sauce to place on your pork chops. The original recipe (from Cooking Pleasures magazine) calls for shallots and whole-grain Dijon mustard for the first mustard, and smooth Dijon for the second use. I'm not that fancy, and just used smooth. I'm also not that smart; the original recipe called for 2 T plus 2 tsp. mustard, but I misread, and used 2 T both times, and it came out very tasty. You may want to adjust according to your tastes.

This recipe needs changes. Entirely too vinegar-y, which I should have realized it would be by reading the ingredients. Between all the vinegar itself and the vinegar in the mustard, it's just too much. And adding oil to the sauce at the end just made it, well, oily. I would to make this again as written. Sorry but this one is not for me.
Sprinkle pork with 1/4 t. salt and 1/8 t. pepper. Heat large skillet over medium heat until hot. Add 1 T oil, heat until hot.
Add pork, cook 10-12 minutes or until slightly pink in center, turning once. Place on platter, cover loosely with foil.
Add onions to same skillet, adding additional oil if skillet is dry. Cook over medium heat 2-3 minutes, stirring frequently.
Reduce heat to low, stir in 5 T of vinegar, 2 T mustard, 1/2 t. salt, and 1/8 t. pepper. Simmer 30-60 seconds, or until vinegar evaporates.
Remove from heat, cool slightly. Whisk in 3 T oil, water, 2 T mustard (less if preferred), and 2 T vinegar. Serve sauce over pork.