Pork Chops With Mushroom Sauce
Prep 10 mins
Cook 20 mins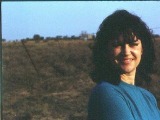 This is my sister Annalie's recipe, and I have her permission to post it! LOL! She says: "This is simple and tasty. I think the sauce will go well with chicken too. My husband and I love hot food, so feel free to leave out the chili flakes or use less."
4 -6 pork chops
1⁄2 cup onion, finely sliced (or use leeks)
2 garlic cloves, slices
1⁄2 lb mushroom, sliced (250 g)
1 teaspoon chili flakes, the dried spice
3 tablespoons sherry wine (specified was 50 ml medium cream sherry)
3 1⁄2 fluid oz cream (specified was 100 ml cream)
parsley (or chives)
Directions
Trim chops and score the fat rind. Dry-fry the chops in a very hot pan, or use a little oil if the chops are too lean. Keep warm.
In the same pan fry the onion or leeks, garlic and chili, adding a little oil or butter, until soft but not brown.
Add the mushrooms and stirfry a few minutes.
Add the sherry and cream and cook until sauce thickens slightly. Stir the chopped herbs through, and pour the sauce over the chops.
Reviews
Most Helpful
I don't know why this hasn't been reviewed before.It's an excellent recipe. For personal taste only I omitted the chili flakes (for DH) and used chicken stock in place of the sherry ( for both of us) and we both loved the outcome. The chops were moist and tender (3/4 in thick chops) and the mushrooms just yummy. Served with cinnamon carrots, half a baked potato (they were big) and a mixed green salad. We had a great meal.

This was absolutely delicious! I did tinker a bit though due to personal preferences and gluttony in terms of sauce. Prior to pan frying (almost dry) I seasoned the chops with salt and pepper as we have no sodium issues. We are also somewhat piggy about sauces so I knew I'd have to make more. I used 2 decent sized rib chops but the whole sauce recipe to which I added about 1/2 cup of chicken broth. I was possibly liberal with the cream and sherry too. :) My chives are buried under a foot of snow so I had to sub green (Spring) onions. I will definitely make this again and again and think it would be a wonderful sauce on Pork Tenderloin too. Thanks to both you and you sister!