Pork Chops with Mushroom Gravy
Bergy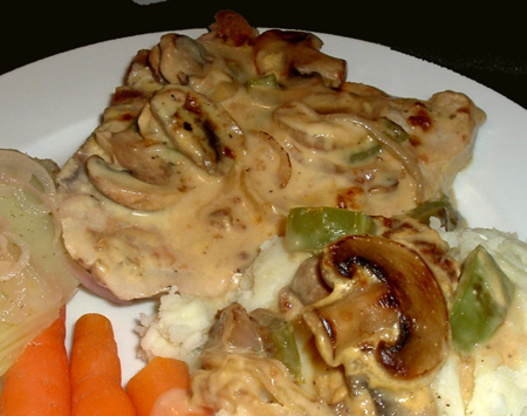 This is one of our favorite pork chop recipes. We love the rich gravy over the pork chops and mashed potatoes.

So good.i substituted 2 TBSP. Worcestershire Sauce for the lemon juice and 1 cup sour cream for 1 of the cups of milk and it was great.
In large plastic bag, combine the flour, paprika, salt and pepper.
Add pork chops, one at a time; tossing to coat.
Set remaining flour mixture aside.
In skillet, saute chops in butter until golden brown; transfer to a greased 13x9x2-in baking dish.
In same skillet, saute the onion, mushrooms and green pepper until translucent and tender.
Stir in reserved flour mixture; gradually add milk until well blended.
Bring to a boil; cook and stir for 2 minutes or until thickened.
Remove from heat and stir in lemon juice.
Pour sauce over chops, cover and bake at 350 degrees for 50-60 minutes or until the meat is no longer pink.
Serve with Mashed Potatoes.