PaulaG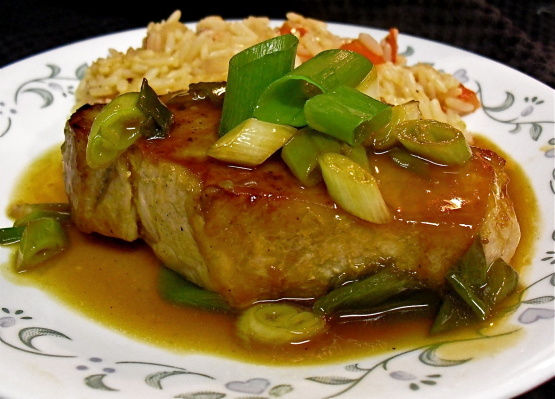 This is an old magazine clipping that the MIL gave me and she has written on it that she made it in May 1988 and found it truly beautiful.
Top Review by PaulaG
Loved it! Pork chops are always welcome in our home. I used 2 boneless pork loin chops that were about 1/2 to 3/4 inch thick. I used chicken stock in place of the sherry and for the 2 chops the full amount of sauce. These are definitely a do over. Made for Aussie Swap. Thanks Pat for a great recipe.
Heat butter or oil in pan and add chops and cook gently until meat is well browned on both sides and cooked to your liking, remove and keep warm.
Combine grated ginger, dry sherry, soy sauce, lemon juice, sugar, cornflour and water.
Drain excess butter or oil from pan and add the combined sauce ingredients and stir until sauce boils and thickens and then add the spring onions, stir to combine and then add the chops covering with the sauce and heat through and then serve.