Sunday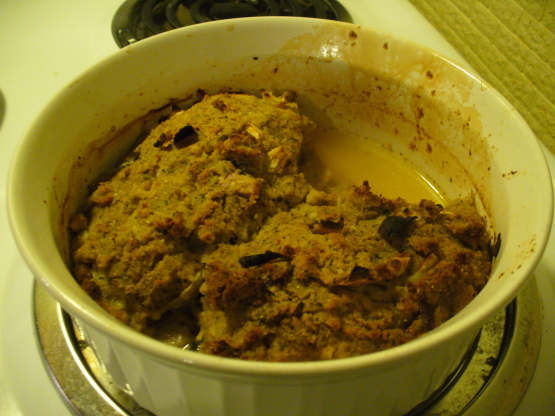 I tore this out of "New American Cookbook" years ago when the book finally fell apart. It is my husband's one and only way to have pork chops. I use Italian flavored crumbs and somtimes omit the onion. Adding the fat is overkill. I usually serve this with egg noodles and spaghetti sauce. Now that it's just the 2 of us I usually cook 3 chops and use 1 C. of crumbs. These chops are moist and delicious every time.

Top Review by Sunday
This is going in our make again file. My boyfriend really liked the difference. The only thing is that I did make for 2 and reduced the amounts, but I used the wrong dish to cook so since I didn't have a baster....I couldn't really baste with the spoon I had. Instead, I basted with chicken broth...and some of the juices from the pan. It was pretty fantastic though! Thanks surus!
6

pork chops
1⁄8 onion, chopped
1 1⁄2 cups breadcrumbs

1

egg
1⁄8 teaspoon pepper
3⁄4 teaspoon salt

2

tablespoons pork fat, chopped
Mix onion, breadcrumbs, fat, pepper, and salt and well-beaten egg with 1/4 cup hot water.
Spread on chops.
Place chops close together in a pan.
Add enough water to cover bottom of pan.
Bake at 350 degrees F 1 hour, basting every 15 minutes.