Pork Chops With Cherry Preserves Sauce
flower7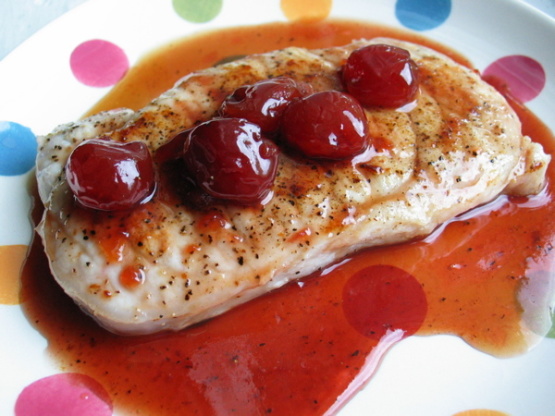 One of those recipes with lovely presentation that looks like it was 10 times harder to make than it was. Better if you use homemade or top-quality preserves.

Loved the sauce, however my porkchops ended up being tough. Will try again, maybe with baking the sauce with the chops. Thanks!
Heat a large nonstick skillet over med-high heat.
Coat pan with cooking spray.
Sprinkle pork with half the salt and pepper.
Add pork to pan and cook 4-5 minutes on each side, or until browned and cooked through.
Remove and keep warm.
Add preserves, vinegar and remaining salt and pepper to pan.
Cook 30 seconds, scraping up browned bits from pan.
Serve sauce over pork.