Pork Chops With Blue Cheese Gravy
gailanng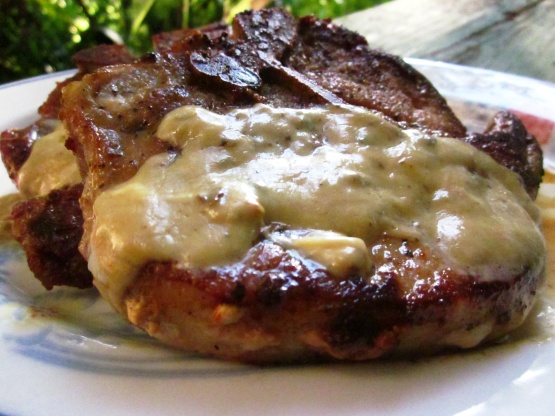 BOY, does this look good.... if you like blue cheese. I highly recommend a moist blue cheese as opposed to a more crumbly one to facilitate making the sauce. Nabbed with no shame whatsoever from allrecipes.com.

Wow! We said 5 stars - our cardiologist said mmmmmmmmmmm lovely, but stop eating it now! Delicious flavours. We served with mashed potato, asparagus, yellow squash and some Lipitor (sorry, just joking). There is two of us and we have leftovers to eat and are trying to figure out what time to call the ambulance. In all seriousness, it was a wonderful dish and we really enjoyed it. We will just have to portion our intake in the future so we can try more of your recipes.
Melt butter in a large skillet, over medium heat. Season the pork chops with black pepper and garlic powder. Fry the chops in butter until no longer pink and the juices run clear, about 20 to 25 minutes. Turn occasionally to brown evenly.
Remove chops to a plate and keep warm. Stir the whipping cream into the skillet, loosening any bits of meat stuck to the bottom. Stir in blue cheese. Cook, stirring constantly until sauce thickens, about 5 minutes. Pour sauce over warm pork chops.