Pork Chops with Applesauce
Derf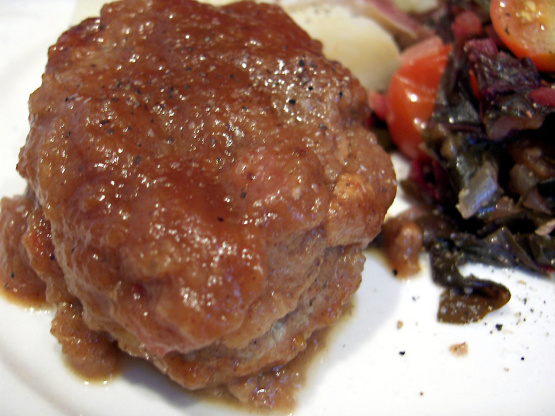 This is great if you like something sweet, but not too sweet, with your pork. Another delicious comfort food.
I'm sorry, this just didn't sit as well with me as I'd hoped. I've always loved apples and pork together and liked the idea of the nutmeg in this. The simplicity of it also caught my eye. 4 stars for the simplicity, only 3 for taste. In this case, I really did just only liked this and it was okay. I didn't realize BF had bought boneless pork tenderloin chops, because that's what I ended up taking out of the freezer instead of traditional chops. Because I love sauce in general, even when I make smaller portions of a recipe I sometimes keep the sauce ingred amts the same, which is what I did here for 3 boneless pork tenderloin chops. I mixed up 1 TBSP of garlic powder, salt, and pepper to season the chops, and when there was seasoning left over I sprinkled this over the browned chops. I sprayed my bakin dish w/non-stick cooking spray. I had some yummy brown bits in my pan, so deglazed with a little extra apple juice. I used apple juice in the sauce mix too. I had part of a jar of Musselman's Cinnamon applesauce, so left out the cinnamon, but I also used some of a jar of Tree Top unsweetned applesauce and a single-serving cup of Mott's Healthy Harvest Granny Smith unsweetened applesauce. I baked this covered, to create a sauce, then uncovered it and baked an extra 15 mins past the suggested cook time to reduce the sauce, which worked well. The chops were sort of med-large in size, so the extra cooking time seemed fine. I think I would have preferred to use the applesauce in another way - either by itself or in a baking recipe. This is the first time I wish I had actually halved the sauce. Served w/white rice. Bf didn't have anything to say, but he did finish his chop. Thanks LisaGay, it was a nice recipe anyways, but sorry I didn't like it as much as I'd hoped. Btw, the nutmeg was interesting. :) I still think my favorite is sliced baked apples instead of applesauce, like in #57967. Not sure why though.
Season pork chops with garlic, salt and pepper.
In heavy skillet, brown chops in small amount of cooking oil.
Mix remaining ingredients while chops are browning.
Place chops, single-layer, in shallow baking dish.
Spoon half of applesauce mixture evenly over chops.
Bake in preheated 350 oven for 20 minutes.
Turn chops and evenly spoon remaining applesauce mixture over them.
Bake for 20-30 more minutes.