Pork Chops With Apples and Thyme
lazyme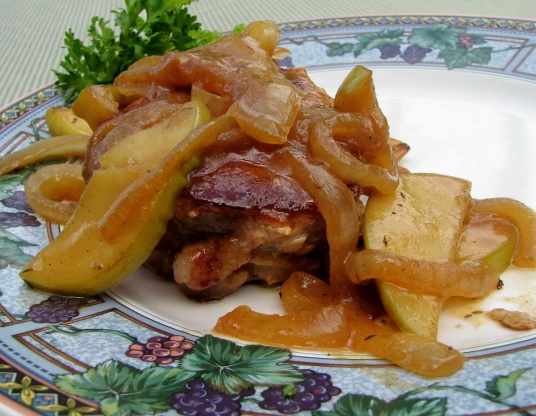 A huge sale on boneless pork loin launched me on a search for new recipes that using this ingredient to full advantage. This is an adaptation of a recipe from Eating Well magazine. This simple dish is easy to prepare and captures the flavors of fall. If you are cooking for 1 or 2, I would suggest making a full batch of the apples and sauce with just two chops as it is quite yummy.

Great pork and apples! We used arrowroot and olive oil and served with couscous. Thanks!
Using a fork, whisk together 2 tablespoons of the chicken broth and the cornstarch in a small bowl. Set aside.
Heat oil in a large nonstick skillet over high heat. Add chops and cook until browned, 3 to 4 minutes per side. Transfer to a plate.
Reduce heat to medium-high and add onion to the skillet. Cook for 2 to 3 minutes, stirring often. Onions should become somewhat translucent. Add the apple slices and cook, stirring often, until tender, 3 to 5 minutes. Stir in the remaining broth, cider (or juice), mustard, thyme and the cornstarch mixture.
Bring the sauce to a boil, stirring, until thickened and glossy, about 1 minute. Season with salt and pepper to taste.
Return the chops to the pan and heat through.