Pork Chops With Apple and Onion
Linky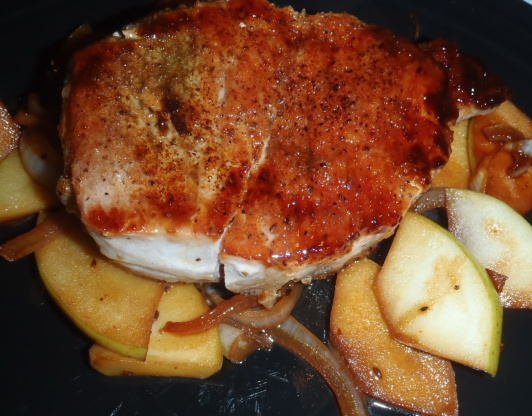 DH and I enjoyed this pork chop recipe from my Williams-Sonoma "Steak and Chops" cookbook. It's easy to prepare, without a lot of prep. We used vermouth. Prep time includes the at least 15 minute resting time for the meat at room temp.
Slash the edges of the chops in 1 or 2 places to prevent curling. To make the rub, in a small bowl combine the sage, salt, and pepper. Rub the pork chops all over with the rub. Let stand at room temperature for at least 15 minutes or up to 1 hour, or cover and refrigerate overnight. Bring to room temperature, if necessary, before cooking.
In a large frying pan over medium-high heat, heat the olive oil. Add the chops and brown for about 2 minutes on each side. Reduce heat to medium and cover the pan. Cook until the meat is lightly pink near the bone or an instant-read thermometer inserted away from the bone registers 145 degrees F (63 C), 4-5 minutes longer. Transfer the chops to a platter and tent them loosely with aluminum foil while you make the sauce.
Pour off all but 1 Tb of the drippings from the pan. Add the onion and apple and saute until the onion is translucent, about 5 minutes. Add the vermouth and deglaze the pan, scraping up any browned bits from the bottom.
Spoon the apple and onion mixture onto individual plates. Place the pork chops on top, drizzle with the pan juices, and serve.