Pork Chops - Southern Style
Tinkerbell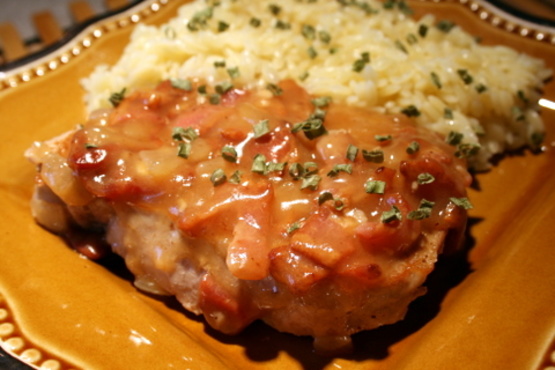 Simple, quick and tasty. Something I threw together with the 'scraps' in my Fridge and surprised me with how great it tasted. Feel free to remove as much 'fat' from the pan as you need to... the more you leave, the better it tastes! Great with mashed potatoes!

Top Review by beffus
I pretty much followed the recipe exactly, except I used a handful of pre-cooked real bacon bits and about 10 thin sliced pork loin chops. Normally, I make the pork slices the same old dried out way, this was so much better. I thought the gravy had plenty of flavor, I'm so glad I didn't add any stock, but I do wish I didn't add any salt at all, I only used a pinch, but I will omit it next time, there will definately be a next time for this!
In 12" skillet, cook bacon on med hi heat. Remove bacon from skillet, but leave bacon drippings.
Add 1 TBSP butter and diced onion. When transparent, remove from skillet.
Reduce heat to medium, lightly salt and pepper both sides of pork chops and place in skillet. Brown both sides (approx 2-4 minutes each).
Chop up bacon, and add both bacon and cooked onion to skillet.
Add 3/4 cup water (add more if you want more gravy), 1 TBSP butter, cover and simmer until cooked (5-10 minutes - but can simmer for up to 45 minutes easily).
Just before serving, mix 2 TBSP cornstarch with cool tap water (approx 1/4 cup).
Place pork chops on plates, add corn starch/water mixture to gravy/drippings in skillet and bring to quick boil stirring frequently to form thick gravy.