Pork Chops Smothered in Mushroom Gravy
lazyme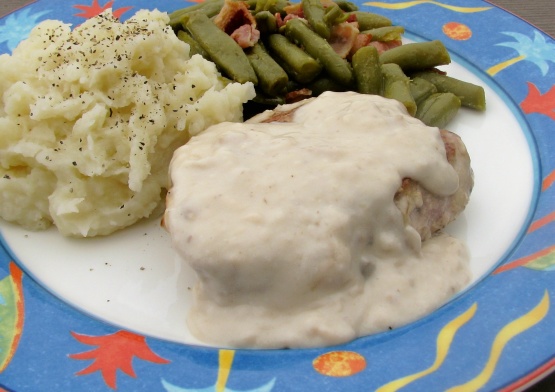 My mom used to make these for our family all the time. They are my favorite and are wonderful served with white rice.
The best sort of recipe. Comfort food quick and easy to make. I did add to the recipe a bit. After browning the pork chops, I put a little bit of fresh white onion, a couple of fresh mushrooms, and a chopped up celery stick that I needed to use up. The additions were nice, and the meal received rave reviews from my wife.
In a large skillet, add the 2 tbs. of olive oil to coat the bottom of the pan and heat to medium high heat.
Season both sides of the pork chops with your salt, pepper, seasoning salt, and garlic powder.
Brown both sides of the pork chops in the skillet. About 5 minutes.
Remove the porkchops from the skillet and add the can of soup and the milk. Mix it in good an be sure you scrape all the goodies off the bottom.
After mixing this together good in the skillet return the pork chops and simmer on low for about 30 minute.
Once the porkchops are done, the mushroom soup is a wonderful gravy to serve over the pork chops and the white rice if you choose to fix it as a side.