Pork Chops Smothered in Green Beans
NELady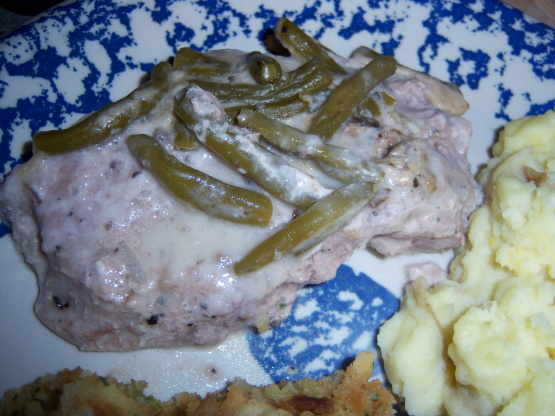 I got this dish from my mother's friend. This dish does tend to be more soupy than creamy but it also produces extremely moist pork chops.

I really liked the sauce with this dish. My biggest problem was that the chops were tough. Though I used bone-in center cut chops, I think the next time, and the sauce is good enough to try again, I will used boneless chops. Made for ZWT6 Voracious Vagabonds
Preheat the oven to 375 degrees. Spray a baking pan with cook spray.
Mix the soup, sour cream, spices, & beans together. Place the chops in the pan then pour the soup & bean mixture over the chops.
Cook in the oven for 30 minutes or until the chops are no longer link inside. Serve hot.