K9 Owned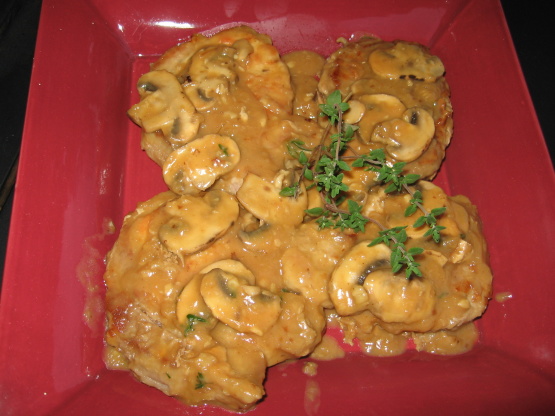 I got this recipe out Cooking Light. We found it delightful!
Very good recipe. I swapped the fresh thyme for some dried italian herbs and added the salt and pepper with the herbs and flour. This recipe allows for simple substations, I like that. Next time I'll up the amount of marsala and add heavy cream as I read a few others have done. We served ours on a bed of zuchinni "noodles" that we made with our Veggetti...they were a great option if you're trying to cut back on carbs and/or calories.
Heat a large nonstick skillet over medium-high heat. Place a 1/4 cup flour in a shallow dish. Dredge pork in flour. Coat pan with cooking spray. Add pork to pan; cook 4 minutes on each side or until browned. Remove pork from pan.
Add shallots, garlic, and mushroooms to pan; saute 3 minutes or until moisture evaporates. Add remaining 2 tblsp. flour and thyme to pan and cook for 1 minute, stirring well. Combine chicken broth and Marsala, stirring until smooth. Gradually add broth mixture to pan, stirring constantly with a whisk; bring to a boil. Reduce heat and simmer 2 minutes or until sauce thickens.
Return pork to pan; cook 2 minutes or until desired degree of doneness, turning to coat. Sprinkle with salt and pepper.
Serve with mashed potatoes. Garnish with thyme sprigs, if desired.