Pork Chops (Kotlet Schabowy)
diner524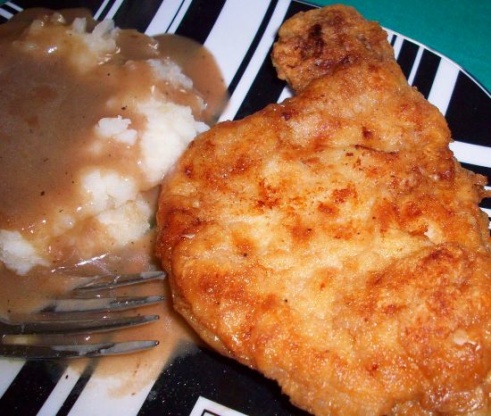 I was brought up in a Polish Home and breaded our chops with flour. You can use breadcrumbs in the second coating if prefered. Lovely topped with with sauteed mushrooms and onions! The rib chops are located next to the blade chops at the rib end of the loin. They contain some fat but are tender, juicy and very flavorful.

Very good. Liked the seasonings. After last coating place chops on plastic wrap covered platter, chill for 30 min. uncovered, then fry on med-hi the coating won't slip off. (Learned this from my German mother in law.)
Pound out the pork chops until fairly thin. Season with salt, pepper, garlic powder and marjoram. Set aside. On separate plates, pour flour & egg . Dip each chop into the flour, coating on both sides, and then dip into the beaten egg. then back into flour, ensuring even coating.
Heat oil and butter in a large frying pan. When very hot, add the pork and cook over high heat for 3-5 minutes on each side.
Being sure not to over crowd the pan.
Lower heat and cook for another few minutes until golden.