Pork Chops in Onion sauce
diner524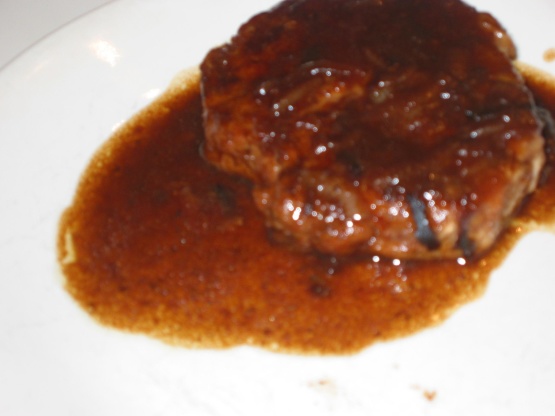 Pork chops with a great onion sauce.
Wow!! I was leary about using red wine and beef broth for a pork recipe, but it was awesome!!!! The pork chops were tender and with the sauce they were sooooo good. I thought it wouldn't taste this good, but these were awesome. I followed the directions except for I used olive oil and I cooked it a little longer for the onions to cook, but end result was excellent. Next time I would brown the chops, remove them while I saute the onions, and then add them back with the broth and wine. I will definitely make this again. Thank you ambassador for a great recipe.
Season pork chops with salt& pepper; coat with flour.
heat oil in a heavy saucepan.
fry pork chops in oil, 3 mins.
on each side, Add onions, cook for another 5 minutes turning once.
Pour in wine& beef broth, reduce heat and simmer for 15 minutes.
Mix cornstarch with a little bit of cold water, add to broth mixture and cook until thick& bubbly.
Pour over pork chops and serve with rice.