Pork Chops in Onion Gravy
lazyme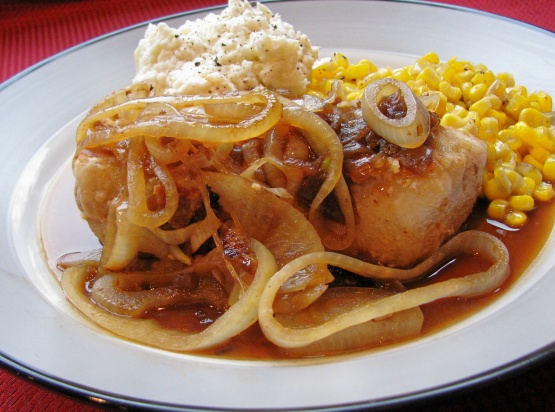 Mouth watering chops! Great with mashed potatoes or noodles.

We had this with garlic mashed potatoes and salad. I followed the recipe exact. 2 tbl. of flour wasn't enough to coat all the chops, so I had to use more. Also, 2 tbl. of oil wasn't quite enough, as the chops with flour coating seemed to absorb it all before the onions got added. I would also use more cornstarch, as 1 tsp. didn't thicken the gravy very much. Of course, these small things can be corrected easily enough. We just thought the end result wasn't as flavorful as expected and everyone thought is was just ok. I thought this looked awesome and that it would really be outstanding with all the yummy ingredients, but for some reason it's just lacking that oomph. I may try this again and mess around with some seasonings to make it more flavorful because I think it has great potential. Thanks!
Sprinkle pork chops with salt and pepper, coat with flour. Shake off excess. Cook pork shops in hot oil in a heavy skillet over medium-high heat 3 minutes on each side. Add sliced onion and cook 5 minutes turning chops once.
Add beer and beef broth cover and reduce heat and simmer 15 minutes or until chops reach desired doneness.
Remove pork chops reserving onion mixture in skillet. Keep warm.
Stir together cornstarch and water until thoroughly blended. Stir into onion mixture cook over medium high heat. Stirring constantly 3 minutes or until gravy is thickened and bubbly. Spoon over pork chops and serve immediately.