Pork Chops in Mustard Sauce
Ms B.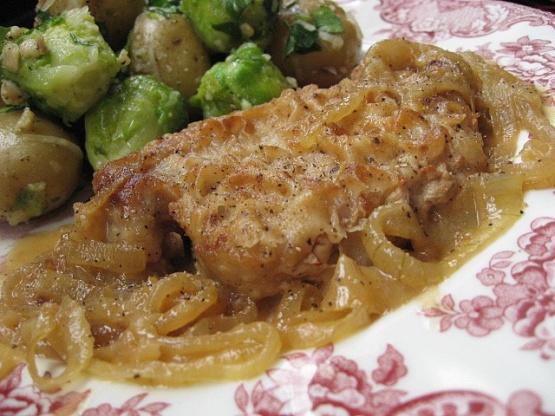 I adopted this recipe and prepared these with rice and veggies for complete meal. We loved the flavor of the sauce, and found that it didn't need the pinch of sugar. In the future, we would add some chicken broth with the beer to make more sauce for our rice, noodles or other side dishes. The original chef wrote: "I found the recipe years ago in one of my cookbooks. The original requires equal parts of sherry and chicken stock. Since I had neither and love the taste of beer when cooking pork, I just added it instead plus a pinch of sugar. YUMM"
melt butter in a pan and saute onion.
set onions aside.
mix flour, salt and pepper and cover the meat with it.
brown the meat and add the onion and beer.
leave to simmer covered for 30min.
put meat on a plate and stir mustard and sugar into the sauce.
pour over the chops and serve.