lynmoz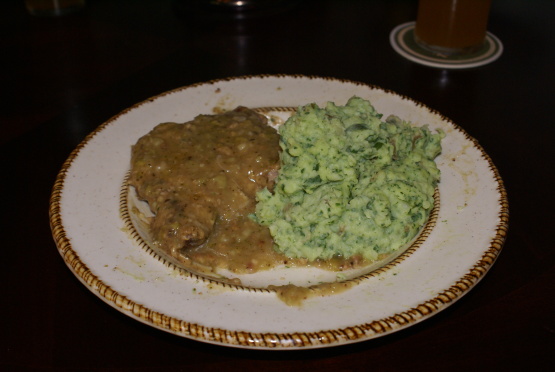 To keep from heating the house up with the oven, I cooked these in my pressure cooker for 25 minutes, (with 1/2 cup water added to make steam). They were fanastic!! They were fall apart tender, and the sauce that this makes is excellent!! I would have never thought of using these two soups together, but WOW!! This is really a great recipe!!
1

egg

2

tablespoons water

8

pork loin chops (1/2 inch thick)
3⁄4 cup seasoned bread crumbs

2

tablespoons vegetable oil

1

can cream of mushroom soup, undiluted

1

can condensed French onion soup, undiluted
1⁄4 cup grated parmesan cheese
In a bowl, beat egg and water.
Dip pork chops in egg mixture.
Coat with bread crumbs.
In a large skillet, brown chops in oil.
Transfer to greased 9x13 baking dish.
Mix the soups together and pour over then sprinkle with cheese.
Cover and bake at 325 for 1 1/2 hours or until tender.