Pork Chops in Black Beans
Prep 10 mins
Cook 20 mins
I found this recipe on the what_a_crock community on livejournal. It was posted by delwyncole and sounds absolutely yummy. I can't wait to try it. It is pan cooked pork chops in black beans. They didn't give exact measurements so I am guessing with this. I had to transform the rough recipe into something more like a formal recipe. I am hoping I got the proportions right, but when I try it I will fix the recipe.
Directions
sprinkle chops with a little salt and chili powder, sear both sides in a super-hot pan
Rinse a can of black beans and pour it over the top.
Pour a 1/2 cup of your favorite salsa on top of this.
Cover with a lid.
turn the heat down to low and cook for 15-20 minutes depending on the thickness of the chop, they can also be put in the oven at about 325 for 20 minutes or so if you prefer, or if they're really thick.
When they come out, sprinkle some sharp cheddar and chopped green onion on them.
Reviews
Most Helpful
This is extremely quick and easy AND delicious. Wouldn't change a thing! I do think the bean and salsa mixture would be great on boneless chicken breasts or a salmon filet, cooked the same method. I am going to try that soon. Made for Spring 2011 PAC game.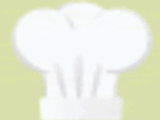 This was really good. After pan searing it I put it in a casserole dish over the black beans then added about 1 1/2 cups of salsa. I also added a can of rotell (drained) to give it an extra kick. Cooked for about 30 minutes at 325 (Used 3 cans of beans (drained) and about 9 chops) topped it with a white cheese blend and the onions and served over a bed of rice. Very simple and did not have to watch it once all prep work was done. Very juicy
This recipe is a treasure. Delicious, beautiful and QUICK to throw together, just as written. I'll be making this one for years.