Pork Chops in Balsamic Vinegar and Shallot Sauce
Rita1652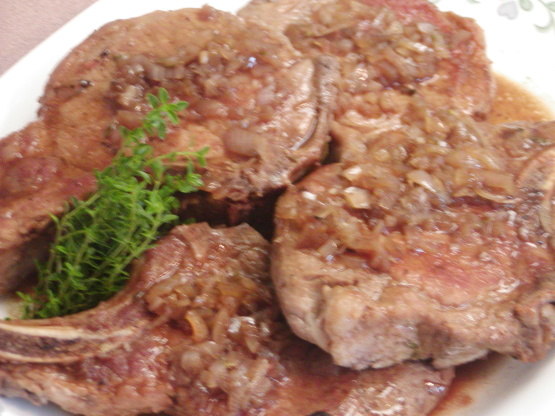 This is a quick yet tasty dish. The acidity of the balsamic vinegar is balanced by the sweetness of the shallots. I suppose the chops could be broiled rather than pan-fried, but you would lose the lovely drippings for the sauce.

My husband and I both loved this recipe. I didn't and wouldn't change a thing (except the other reviewers advice to add broth first). This went perfectly with roasted potatoes and sauteed green beans and mushrooms.
Heat the olive oil in a frying pan large enough to hold the chops in one layer, over medium-high heat.
Season the chops with salt and pepper, and cook them through, approximately 5 minutes per side, or as needed according to the thickness of your chops.
Remove from pan and keep warm.
Add shallots to the pan and cook them, stirring, one minute.
Add chicken broth, balsamic vinegar, and crumbled thyme.
Cook stirring 5 minutes.
Remove pan from heat, and add the butter.
Stir till the butter has melted and is well incorporated into the sauce.
Pour sauce over the chops, and serve.