Pork Chops in Adobo Sauce
Bergy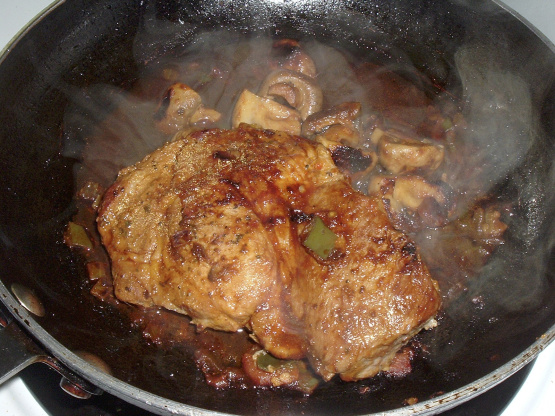 Adobo sauce is used for pickling meats In this recipe it is diluted with the tomatoe sauce and gives a delicious flavor to the porkchops

I've used this recipe as written many times and just keeps tasting better. Watch simmer temp or sauce dries up, otherwise excellent tasting pork. Note: would also use with bone in chicken - next time?
After cleaning the ancho peppers cut them into small pieces (use scissors) and pour boiling water over them and soak for 1 hour or until they are pliable Adobo Sauce: In a blender or food processor place the onion, tomatoe sauce, vinegar, flour, oregano, cumin, garlic and adobo peppers (or chili), season with a bit of salt and process until smooth Pour the sauce in a skillet.
Place chops in the sauce, turn over to coat the chops.
Simmer covered for apprx 45 minutes or until the chops are tender.
If using garnish arrand the chops on a platter on lettuce lettuce leaves and decorate with sliced avacado, radish roses and a bit of sour cream.