Pork Chops in a Vermouth Mushroom Sauce
Prep 10 mins
Cook 16 mins

This dish can be made with either sweet or dry vermouth but I prefer sweet.
Directions
Combine flour, salt, pepper and thyme in a shallow pan. Dredge pork chops in flour.
Add butter and oil in pan and heat over med-high. Brown pork chops on both sides, about 4 minute.
Add 1/2 cup vermouth, cover, lower heat and cook until chops are cooked through, about 4 more minute.
Remove pork chops to platter, top with swiss chesse and cover to keep warm and melt cheese.
Add mushrooms to skillet and cook over med-high heat until softened.
Add remaining vermouth and scrape off brown bits from pan. Cook until sauce is slightly reduced.
Spoon sauce over pork chops and serve.
Most Helpful
Loved this! I would suggest that you put the chops in a warm oven while preparing the mushrooms. Our chops were on the cold side but the flavor was wonderful. The cheese was melted and the vermouth mushroom mixture was just delicious. I used the sweet vermouth and think next time I'll try the dry just to see the differences. This is a keeper. Thanks for posting. :)

Buddha absolutely loved this recipe. I took the photo and began to serve it, then shouted "wait!", "I totally forgot the swiss!" So I took our plates back from the table, placed the cheese on top and microwaved it for 20 seconds to melt over top of the shrooms. The mushrooms soaked up the flavor of the vermouth and tasted wonderful. This is a great mushroom lovers recipe. Thanks for posting. :)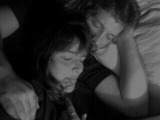 We overall loved this (the DH was a bit iffy). It was easy to put together and make. I had to use vintage cheddar instead of swiss (the swiss had disappeared - I think to DS's stomach). We put the cheese over the chops and put them in a low oven (75C) while making the sauce for the cheese to melt. Will make again but maybe not while the DH is present. Thank you KLBoyle. Made for Please Review My Recipe.