Pork Chops in a Vermouth Mushroom Sauce
teresas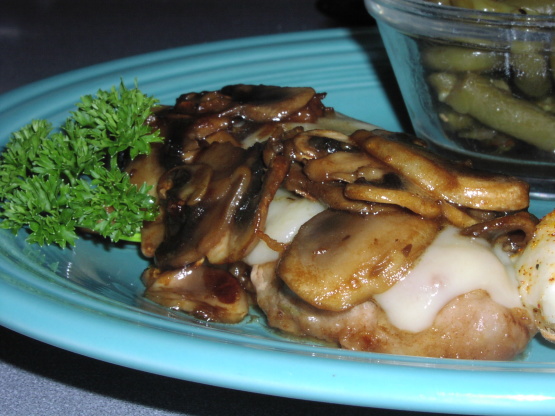 This dish can be made with either sweet or dry vermouth but I prefer sweet.

Loved this! I would suggest that you put the chops in a warm oven while preparing the mushrooms. Our chops were on the cold side but the flavor was wonderful. The cheese was melted and the vermouth mushroom mixture was just delicious. I used the sweet vermouth and think next time I'll try the dry just to see the differences. This is a keeper. Thanks for posting. :)
Combine flour, salt, pepper and thyme in a shallow pan. Dredge pork chops in flour.
Add butter and oil in pan and heat over med-high. Brown pork chops on both sides, about 4 minute.
Add 1/2 cup vermouth, cover, lower heat and cook until chops are cooked through, about 4 more minute.
Remove pork chops to platter, top with swiss chesse and cover to keep warm and melt cheese.
Add mushrooms to skillet and cook over med-high heat until softened.
Add remaining vermouth and scrape off brown bits from pan. Cook until sauce is slightly reduced.
Spoon sauce over pork chops and serve.