3 Reviews
I made some adjustments based on the other reviews. I too found that 1/4 cup liquid initially was not enough so I doubled up. Used only 4 center cut pork chops instead of the 6 and instead of a creamy sauce, I made a brown sauce by omitting the cream and using water. There was just enough sauce for the 4 chops. Both DH and I enjoyed them.
These were indeed very tender chops! My liquid evaporated almost as soon as I poured in the 1/4 C and I ended up using about a whole cup of the wine. Even at that there was no liquid left at the end and my sauce was very thick. We just put a spoonful on our plates and then spread it on the top or dipped a bite into it. It had a very mild flavor.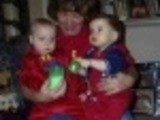 These pork chops are very flavouful. I did have 2 problems - the first being that there was no way I could fit 6 pork chops in one skillet, and I have a large skillet. Had to brown in 2 batches and doubled up to simmer. The second problem was the amount of liquid. The 1/4 cup of wine had evaporated in less than 25 minutes at a simmer and I scorched the chops a bit but added water just in time. I ended up adding close to 3/4s cup of liquid by the time the chops were done, so do watch that. The sauce was wonderful and I do recommend this recipe - just watch the liquid!

Pork Chops in a Creamy Mustard Sauce