Pork Chops Hunter's Style
Bergy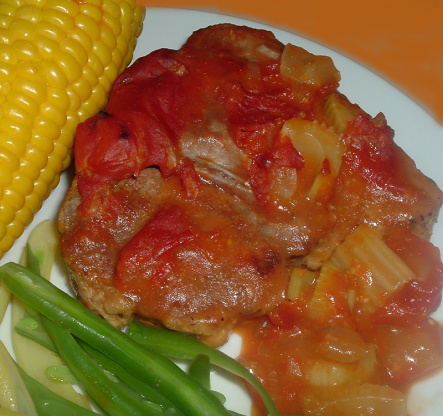 This was my favorite dish when I was a kid. I also made it often when we were first married, and my husband still requests it! It's great with chicken breast, too. Just cut the baking time to 30 minutes. Serve with rice. UPDATE: I'm editing the amount of water in this recipe to 1/4 cup. If you're NOT using very lean chops, you can omit it all together.

So simple but SO Yummy. I followed the recipe except that I omitted the celery and I doubled the sauce ingredients (except for the water and salt) so there would be plenty for the rice. I served it over Trader Joe's Frozen Organic Brown rice with California Blend and a couple Honeydew slices. It was devoured. The pork chops (I used lean Boneless) came out so tender and moist. Thanks for a quick and easy recipe.
Brown pork chops and place in shallow baking dish.
Mix together remaining ingredients and pour over chops.
Bake, uncovered, in preheated 350 oven for 45 minutes.