DuChick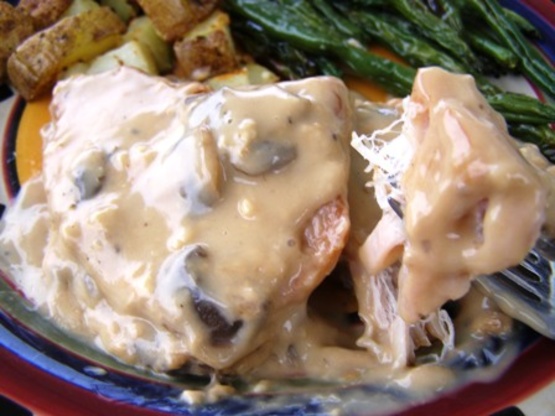 When you're broke, you throw things together and hope for the best! This worked out to be yummy, according to my husband. The pork chops are good, but the gravy is what makes these different. This would be easy to double.

Hey, even if you're NOT broke, this is a great, quick and tasty meal to serve a hungry family. I did add 1/4 cup skim milk to thin down the gravy and also used Healthy Request soup, along with ff sour cream and a half dozen fresh sliced mushrooms. I simmered it all for a good 30 minutes and the chops came out succulent and tender. Served with roasted taters and green beans for a terrific meal! Thanks Jili! Made for this preemie in Fall PAC '08.
In a skillet, heat oil, garlic, and a splash of Worcestershire, and brown the pork chops.
Meanwhile, mix sour cream, soup, Worcestershire, salt, and pepper.
When pork chops are done, pour mixture over chops and heat through.
I served the chops with the gravy and gravy over baked potatoes, but you might like mashed potatoes or rice.