Pork Chops Baked With Potatoes and Pears
Prep 30 mins
Cook 35 mins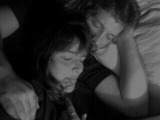 If you don't have (or want to use) parsnips, feel free to substitute turnips or carrots. A great way to ensure tender and moist chops is to soak them in a brine of 1 cup milk to 1/2 Tbs salt for at least 1 hour before using in a recipe.
Directions
Preheat the oven to 425 degrees F. Wash, peel, and slice the parsnips into 1 inch thick peices (same for carrots, but if using turnips, cut in half, then slice into 1/2 inch thick slices). Scrub and slice the potatoes into 1/2-inch thick slices.
Place into a large bowl and coat lightly with olive oil. Add 1/2 of the thyme (2 Tbsp), garlic cloves, salt and pepper. Pour into a baking dish and bake in the oven for 10-15 minutes.
While the vegetables are in the oven, mix the remaining thyme, softened butter, and seasoning. Rub onto the chops. Quarter pears and scoop out the seed center.
Place the chops and pears in the tray with the parsnips and potatoes. Cook about 30 minutes until the meat is tender and the vegetables are golden.
Reviews
Most Helpful
This was REALLY good, although the portion sizes were MASSIVE. The pears were stunning as they added an element of sweetness and the thyme just made the pork chops, as always. Much enjoyed 2 Blue. Only thing is the lack of colour so next time I'd add some tomatoes or something green to add a splash of colour to it. Thanks for a great recipe though! Photo tag 2008

This is another recipe I cut in half for 2 of us, but that didn't detract from the great flavor of the dish! I did use carrots rather than the parsnips, but other than that . . . Reading the 1st reviewer, I realized how seldom I think about it (color & presentation, that is), 'cause if needed, I always have something I can add at the last minute, whether several thin strips of red or orange bell pepper &/or a sprig of parsley! Does it for me! Thanks for sharing the recipe! [Tagged & made in Please Review My Recipe]
I really liked the roasted potatoes, parsnips and pears and the chops had a great flavor as well. The only thing that I didn't like is that the chops were not tender. I didn't remember about the brine suggestion so I cooked them right out of the package. I will have to make this again and brine them to tenderize them. Made for I Recommend Tag.