Pork Chops and Sauerkraut
Bergy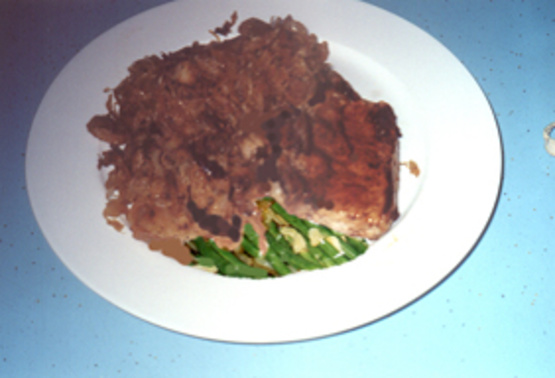 The apple and wine (or rum) add a slight sweetness to the dish which counteracts the bite of the sauerkraut. Goes nicely with herb-roasted potatoes.

Top Review by Laudee
We thought this chop 'n kraut dish was fantastic! I used my electric skillet, so it made cooking very easy. I used apple juice in place of the apple, and rum, as suggested. The flavors blended together really well, and the end result was tender meat, and a tangy sauce. Delicious!! Thank you for sharing ... This one is a keeper, for sure!
Season the pork chops with salt and pepper.
Heat a skillet and oil lightly.
Brown chops on both sides, and remove them from skillet.
In remaining oil and residue, saute the onion and apple, till they begin to color.
Add the white wine or rum to the skillet.
Add the sauerkraut with about half of its liquid to your pan.
Combine well with onion-apple mixture.
Add the chops back to the pan, atop the sauerkraut mixture.
Cover and simmer for approximately 20 minutes.
Remove cover and cook off any remaining liquid, moving chops to the bottom of the pan for final browning on both sides.
When all the liquid is gone, the dish is ready to serve.