Acoustic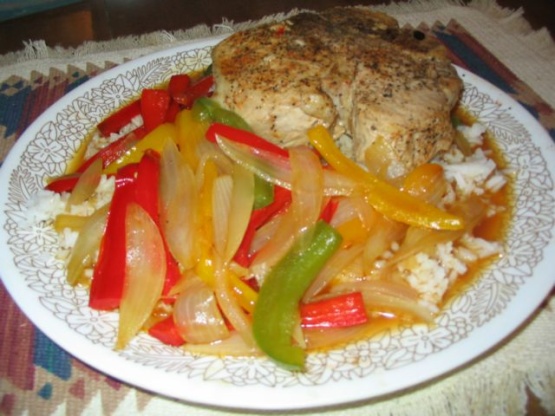 Tender boneless pork chops with peppers and gravy. Quick enough for a weeknight meal, just add some noodles or rice, and a salad...

Made this for dinner tonight. Went back to check the recipe to see if I forgot something - I didn't. We thought too bland - maybe, if I ever make this again, I will add garlic, or some spices. Gave it one star, however, for ease in preparation and it has a nice consistency. Sorry, but this just did not work for us.
Trim any excess fat from the crops.
Heat olive oil in a large non-stick frying pan over medium heat.
Brown pork chops in oil, cook until barely done.
Remove pork chops from pan, add peppers and onions to pan and cook until crisp tender.
Return pork chops to pan, add chicken broth, wine and vinegar to pan and stir, reduce heat and cover.
Simmer over a low heat for 5 to 6 minutes until pork chops are tender.
In a small bowl combine cornstarch with enough water to make a thin paste.
Add a tablespoon or so of the liquid from the pan to the cornstarch paste and blend.
Add this mixture to the pan and stir until sauce thickened and smooth.
Add salt and pepper to taste.
Stir in parsley.
Serve with rice or noodles.