Shawn C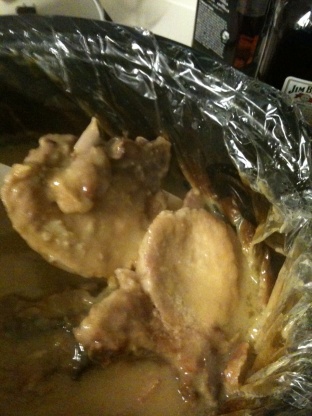 I love this for busy days when I have the extra time in the morning to set things up or I may even start the process the night before then refrigerate till the morning and throw in the crock pot. I almost always double everything except the chops for LOTS-O-GRAVY!!!!MMMMM

YUM YUM YUM! I doubled the recipe as recommended for extra gravy. I didn't have any canned chicken broth so I just made my own with bouillon cubes, and I added about a teaspoon of black pepper to the flour mix. This ended up being in the crockpot for about 10 hours, and it was fall-off-the-fork finger lickin' good! Served with #35076 and #19009. Thanks so much for sharing, definitely a keeper!
Combine first 4 ingredients in shallow dish, dredge chops in mixture and set aside.
Combine broth and remaining flour mixture in crock pot.
Pour oil in skillet med-high heat.
Brown chops on both sided and place into cooker, place a small amount of water in skillet and boil to remove bits from bottom and put that in cooker also.
Cover crock pot, cook high for 3-4 hours or low for 6-8.
Serve over rice or potatoes.
Add water to crock pot at half cooking time for extra gravy/ also taste for needed seasonings.