Annacia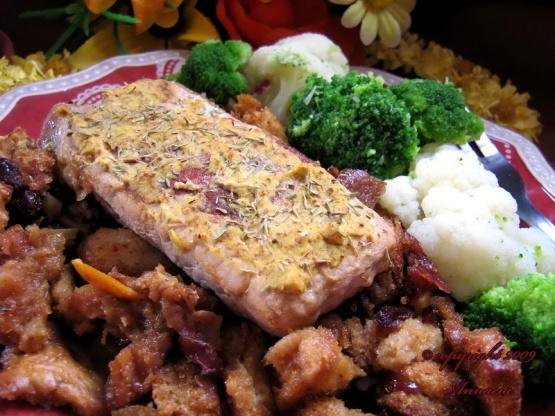 a very nice, easy making, dinner with wonderful flavor. A recipe from my mother.

Followed your recipe exactly except for omitting the nuts. I thought it was a little dry so I served it with gravy. I think it could use another 1/2 cup of hot water. I'm not used to apples and raisins in my stuffing recipe, it's a different taste. My favorite part was the dijon mustard spread on the pork chops. Made for Please Review My Recipe cooking tag game.
In a large skillet, brown pork chops on both sides in 2 tablespoons margarine and set aside.
In same skillet, melt remaining margarine, stir in croutons, chopped apples, celery, raisins, pecans, water, sage, salt, and thyme, and mix very well.
Place crouton mixture into a greased 7x11 inch baking dish, and top with pork chops.
Spread a thin layer of mustard over each pork chop.
Cover and bake at 325 degrees for 40 minutes.
Uncover and bake another 10 minutes.