KathyP53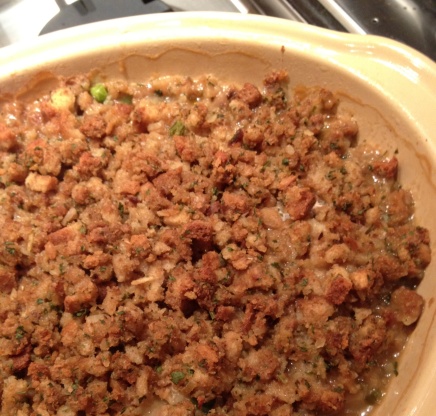 A great, easy recipe that will fill you up! I wanted something different to do with the chops than fry or leave in a crock pot all day. It's a hit here, hope it is at your table, too.

Easy, hearty, weekday fare. Good kid meal. My DH loved it. I thought it was fine, although not spectacular and a little bland. The pork chops themselves could use a little jazzing up with some garlic, onion, seasoning salt, maybe a bit of red pepper. Would make again for family dinner.
Preheat oven to 400 degrees.
Put stuffing in a bowl and add the HOT water, mix and let sit while you do the rest of the preparations.
Spray a 9x13" baking dish with a non-stick coating.
Place the chops (I use the 1" thick chops from Costco) in the baking dish.
In another bowl, mix the soup (no water) and vegetables (you can use any cream soup, chicken works nicely, too - same with the veggies, I like the California Mix style). Pour this over the chops.
Top with the prepared stuffing.
Cover with tin foil and put in oven for 1 hour.
Serve and wait for tummies to get really full!