Pork Chop Salsa and Peppers
Calee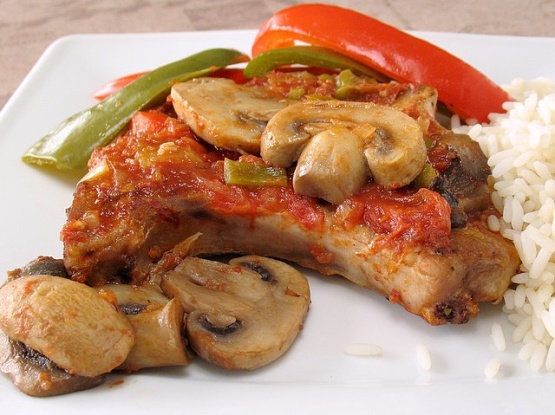 Simple recipe = tender chops. Takes minutes to prepare. Double the recipe for 4 persons or make it for one - very easy to adjust the recipe. For seasoning I used Penzels 4/S salt and Black & Red spice (thanks Susie) but you may use your favorite mixed spice or just salt & pepper

I was a little hesitant about trying this recipe, but I'm glad I did. The pork chops were tender and tasty. I used only green bell peppers and added onions as well. The flavors worked very well together. I will be making this one again!
Season the chops with the mixed spice.
Brown in a skillet over high medium heat, flip when one side is browned, turn heat to medium add mushrooms to the pan.
When the chops are browned and the mushrooms are cooked turn into a baking dish.
Cover with the salsa, cover with foil.
Bake in 300°F oven for 45 minutes.
Open foil add peppers reseal & bake for an additional 15 minutes.