RuPei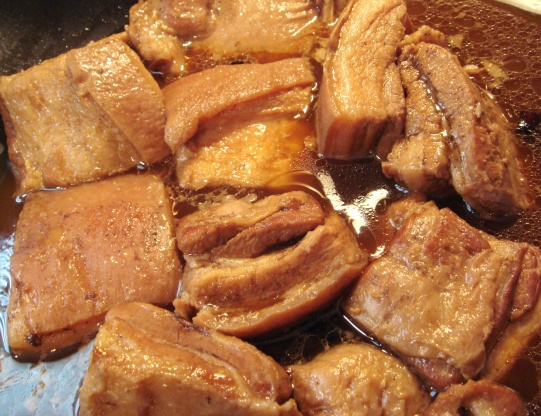 Pork belly stew is absolutely comfort food for Chinese. It might look a little fatty but actually after simmering, the fat tastes chewy and goes very good with steamed rice!!
5

tablespoons grapeseed oil

2

lbs raw pork belly, cut into chunks (about 1 in x 2 in)

6

cups chinese rice wine (cooking michiu)
1⁄2 cup aged soy sauce

2

tablespoons brown sugar

2

teaspoons chinese five-spice powder

1

teaspoon anise extract

3

small red chili peppers (optional)
In a non-stick skillet, heat grape seed oil over a little over medium.
When oil becomes hot, pan fry both sides of pork belly chunks until a little brown.
Transfer meat in a soup pot and add rest of all ingredients. Make sure rice wine covers 1 inch higher than meat. If not, add more michiu or some water.
Turn on heat over high and bring to boil.
Reduce heat to medium. Cover and simmer until meat becomes tender, about 50-60 minutes.
Serve hot with steamed rice.