Pork Balls in Curry Sauce
dizzydi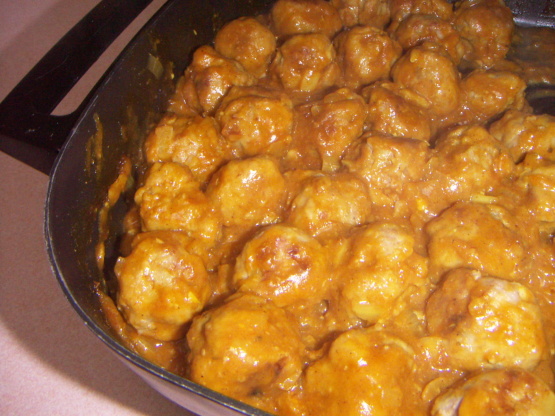 Another pork curry I found on the internet. It's delicious!

Yummy!! Super easy to prep and made the house smell amazing... next time I make this, I will go easy on the red pepper flake. I will definitely keep this recipe around for those impromptu curry cravings!!
Combine ground pork, bread crumbs, egg, onion and salt.
Shape into 1 1/2-inch balls (about 30).
Heat oil in a fry pan.
Add half pork balls and cook, shaking pan to brown all sides.
Remove browned balls from pan and repeat with remainder.
Remove browned balls from pan; pour off fat, measure and return 2 tablespoons to pan.
Add red peppers, curry powder and ginger; cook and stir about 1 minute.
Add onions, garlic, vinegar, tomato sauce, sugar and chicken broth; stir to blend and bring to a boil.
Add pork balls; cover; reduce heat and simmer for 45 minutes.
Push balls to one side and stir in sour cream; carefully mix sauce and balls.
Serve with noodles or rice, if desired and fresh herbs scattered to garnish.