Luschka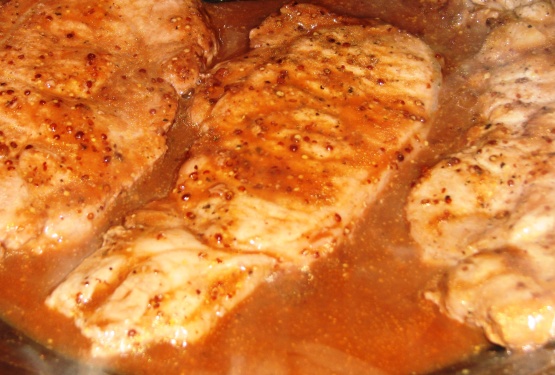 Recently scored a few pork tenderloins, hard to come by in my neighborhood, and found this recipe in Cooking Light. I have modified the cooking instructions to my preferred technique for perfect pork tenderloin. The results are delicious and pair exceptionally well with mashed or whipped potatoes. Pure comfort food.
Preheat oven to 425°.
Heat a cast iron skillet over medium high heat.
While skillet is heating coat the exterior of the loin with the black pepper. Place olive oil in pan and add the pork and cook for 5-6 minutes, turning so that all sides of the meat are seared. You should hear some sizzling.
Place the semi-cooked meat and skillet into the pre-heated oven, and bake for 12-16 minutes or until meat thermometer registers 155 degrees (slightly pink). Remove pork from pan and cover with foil and let it rest for 8-10 minutes. (In that time the meat will reach 160 degrees.
Add broth and remaining ingredients to the cast iron skillet stirring well to scrape the peppery bits into the sauce. Bring to a boil over medium heat, cook until reduced to 1/2 cup (for about 5-8 minutes).