Kitty Z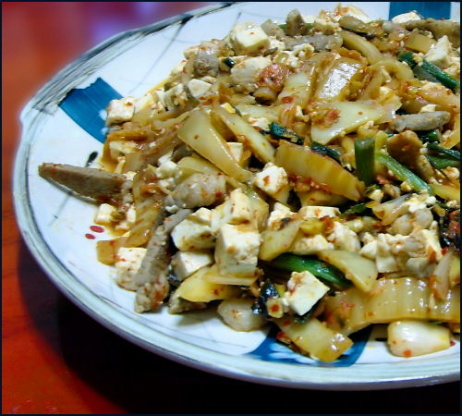 Another of Tomoko and my translation from our new cookbooks. We are having to guess the prep and cooking time at the moment.

This was pretty easy to put together and was quite satisfying. I used napa kimchi, which is the typical variety used in stir-fry. I didn't time myself, but the prep time seems about right to me. This recipe is done a little differently than a typical Korean kimchi stir-fry, which usually starts with the kimchi. The dish retains a lot more of the "fresh" kimchi flavor, since it's added in later on. Though my boyfriend was complaining that I was "doing it wrong" as I cooked this, he liked it well enough once it was finished. I thought it was quite good and I love variety, so I'll be adding this to my Korean stir-fry repertoire. Thanks!
1

tablespoon sesame oil

1

garlic clove, minced

2

teaspoons grated ginger

150

g pork fillets, finely sliced

1

leek, sliced diagonally

1

tablespoon sake

200

g kim chee

1

teaspoon soy sauce

200

g silken tofu, rinsed, blotted dry with paper towel, and cut into small dice
Heat the sesame oil over low to medium heat, add the garlic and ginger and cook until it is softened a little and fragrant.
Turn the heat up to medium and add the pork.
When the pork has changed colour add the leek and cook until the leek is golden brown.
Add the sake and the kimchee, stir, then add the soy sauce.
Heat gently.
Lastly add the tofu and serve.