Pork and Sweet Potatoes Packets
Alia55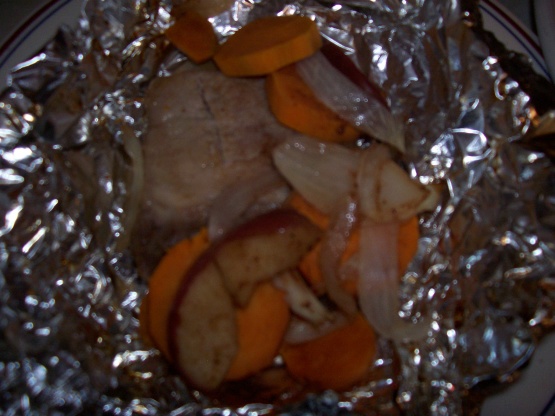 These are very tasty and super easy to make. You can make the packets the night before and keep refrigerated for a few days. All you need to do is throw them on the grill when you're ready to cook them (great for busy days when you don't have time to make dinner).

Wow! It is incredibly good! Sure I'll do it more than thrice!
In a fry pan, brown chops on both sides.
Place each in center of a large square of heavy duty foil.
Peel and slice sweet potatoes; place slices over chops.
Top with onion slices.
Quarter and core apples, cut into thin wedges and arrange over onion slices.
Combine sugar, salt, nutmeg and cloves and sprinkle over apples.
Bring edged of foil together over chop. Fold over with a double fold, leaving a space for expansion and seal ends securely.
Build a medium fire in a barbeque.
barbeque packets 4 inches from heat turning several times for 1 hour or until pork is tender when pierces with a fork.