Pork and Sauerkraut Goulash
Debber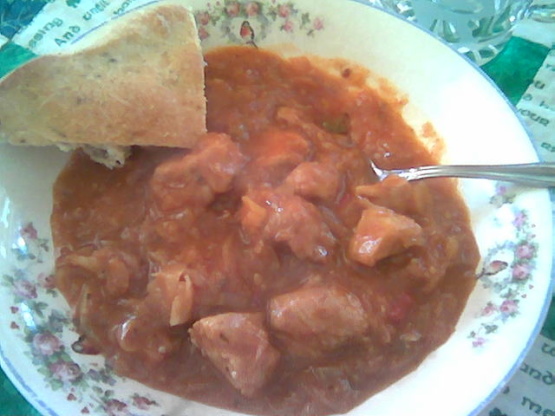 Serve over wide egg noodles.

Top Review by Debber
This has such lovely color, great ingredients, and delightful aroma. I loved it, but my hubby and kids thought otherwise (sorry!). I'm enjoying the leftovers, though! I used pork roast instead of butt which cooked up nice & moist. Didn't use HOT paprika (didn't have it on hand, and our rural grocery store doesn't carry such "exotic" ingredients!!!). Used home-made tomato sauce instead of diced tomatoes. Yummy! We served it alongside/over/with buttered egg noodles. Funny story: When I was growing up I DREADED the words "We're having goulash for dinner..." because my mother's idea of goulash was dumping all the leftovers in the fridge into a big pot. I'm happy to tell you, that your recipe has erased all those horrible childhood "leftover" memories! In fact, it's lunch time---I'm off to have another bowl of goulash!
Dredge meat with flour.
Heat oil in a large skillet, when hot, add meat and cook until well browned.
Remove and set aside.
In same skillet, saute onion, garlic, and green pepper for 5 minutes.
Add both paprikas and cook for 2 minutes. Add meat to onion mixture and stir.
Add broth, tomatoes, sauerkraut, sugar, bay leaf, salt and pepper.
Cover and simmer for 1 1/2 hours.
Remove Bay leaf
Serve with sour cream and parsley.