Pork and Sauerkraut a La Budapest
Parsley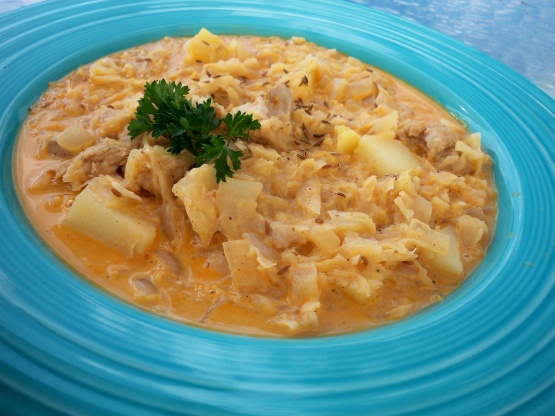 This tasty recipe originally came from my Grandmother's Hungarian neighbor. This goes well with a simple potato dish,a side of carrots are a must for me when I have it, and a nice crusty bread.
Melt the butter in a Dutch oven over med-low heat.
Add onions and sauté for 5-6 minutes, until translucent.
Add the pork and slowly brown all sides of the meat, stirring continuously. About 10 minutes.
Sprinkle the black pepper and sugar over the meat and onions, and stir well.
Stir-fry all for about 3 minutes longer.
Add the garlic, paprika, and the caraway seeds.
Add 1/2 of the can of beer,cover,and simmer for 45 minutes, stirring occasionally and adding the rest of the beer as needed.
Stir in the rinsed and WELL drained sauerkraut and simmer for another 15 minutes, stirring occasionally.
Add in the sour cream, stir and cook for 3 more minutes.