WiGal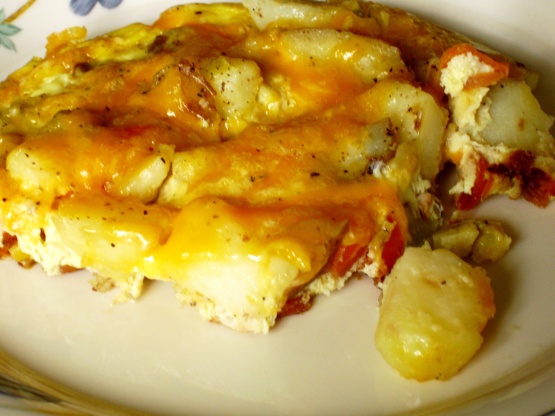 A satisfying dish tha tmy family finds perfect for any time of day. Here is the original recipe I started with years ago (not sure which family kitchen it in which it originated). Since then we have swapped out stir-fry veggies and added mushrooms, brocolli, spinach, asparagus, onions, what ever was handy or looked fresh in the store. To elimiante about 100 milligrams of cholesterol the whole eggs can be replaced with 1 cup of cholesterol free egg whites.

Top Review by WiGal
Pork leftovers! Versatile and delicious. Adding this to my leftovers cookbook. I had leftover roasted potatoes so used them instead of frozen ones. I didn't have cajun or bay seasoning so used lots of black pepper. Made for Fall PAC 2011. Thanks ValkyrieQueen for sharing.
Preheat oven to 400°F Spray baking sheet with nonstick cooking spray. Spread potatoes on baking sheet; sprinkle with Cajun seasoning. Bake 15 minutes or until hot. Remove from oven. Reduce oven temperature to 350°F
Beat egg whites, eggs, milk, mustard and pepper in small bowl. Place vegetables and water in medium ovenproof nonstick skillet. Cook over medium heat 5 minutes or until vegetables are crisp-tender; drain.
Add pork and potatoes to vegetables in skillet; stir lightly. Add egg mixture. Sprinkle with cheese. Cook over medium-low heat 5 minutes. Place skillet in 350°F oven and bake 5 minutes or until egg mixture is set and cheese is melted.