Pork and Pineapple Kebabs
VVARELA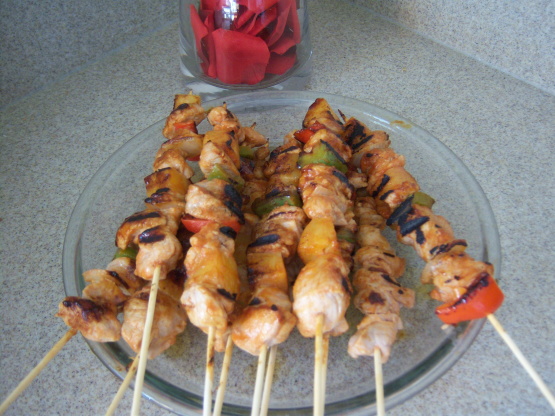 A different twist on the traditional pork and fruit combination. I like to serve this with rice. Cooking time includes marinating time.

I have made this several times and should have reviewed before now. This is an excellent recipe. My whole family requests this on a regular basis. Thank you for a keeper and a winner.
In a large bowl whisk together the red-wine vinegar, the garlic paste, and the red pepper flakes, add the vegetable oil in a stream, whisking, and whisk the marinade until it is emulsified.
Add the pork, stirring to coat it with the marinade, and let it marinate, covered and chilled, for at least 6 hours or overnight.
In a bowl whisk together the ketchup, the distilled vinegar, the sugar, the soy sauce, the salt, and the sesame oil until the sugar is dissolved and reserve the sauce.
Drain the pork, reserving the marinade, and thread it and the pineapple, alternating them, onto the skewers, using 4 pieces of pork and 3 pieces of pineapple on each skewer.
Brush the kebabs with some of the reserved marinade and grill, basting them for the first 10 minutes with the reserved marinade and turning them, for 20 to 25 minutes, or until the pork is just cooked through but still juicy.
Brush the kebabs with the reserved sweet-and sour sauce and grill them, turning them, for 2 minutes more.