Pork and Green Bean Stir-Fry With Peanuts
Bergy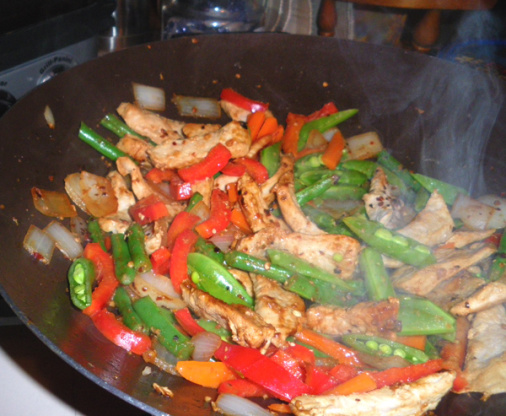 This recipe was taken from Bon Appetit magazine a few years back. You can also make this using chicken breast. If you prefer a thicker sauce texture then add in more cornstarch. To save time chop, blanch/cook the beans and carrot sticks hours in advance. Cooking time is for wok cooking time.

This was just OK for me. I made it with chicken because I didn't have pork on hand and maybe that was the problem. It just wasn't that flavorful. If I make it again I would use twice as much of the flavoring agents and maybe put in some fish sauce as well. Maybe Chinese food really needs MSG??? (I'm not going there)
1

pork tenderloin, cut into about 1-1/2-inch strips

4

tablespoons soy sauce

2 -3

teaspoons cornstarch

1 -2

tablespoon honey

2

tablespoons minced fresh garlic (or to taste)

1

lb green beans, cut into about 1-1/2-inch pieces

2 -3

medium carrots, cut into matchsticks

2 -3

tablespoons peanut oil (can use vegetable or Canola oil)

1

large red bell pepper, cut into slices

1

tablespoon minced fresh ginger

4

green onions, sliced

1

cup dry roasted salted peanut (coarsley chopped or leave whole)
In a medium bowl mix together 1 tablespoon soy sauce, 2 tablespoon honey (can use 1 tablespoon honey if desired) about 1 tablespoon minced garlic (or to taste) and crushed red pepper flakes to taste; mix to combine; add in pork strips, and toss to coat the pork; set aside.
In another small bowl mix together 3 tablespoons soy sauce and 2-3 teaspoons cornstarch; whisk to combine.
In a saucepan, cook green beans JUST until crisp-tender (about 3 minutes) then add in carrots sticks and cook 1 minute; drain the water (this can be done hours in advance).
Heat peanut oil in a wok or large nonstick skillet over high heat until hot.
Add in the pork mixture; stir-fry for about 1 minute, remove pork to a dish.
Add in more peanut oil, then add in the red bell pepper and stir-fry 1 minute.
Add in green beans, carrots, ginger and remaining garlic; stir-fry 1 minute.
Return the pork to the wok or skillet along with the soy/cornstarch mixture; stir until thoroughly heated through and thickened (about 1 minute).
Add in peanuts; toss to combine.
Season with salt and pepper if desired.
Transfer to a bowl and sprinkle with chopped green onions.
Sprinkle with more peanuts if desired and serve with rice.
Delicious!